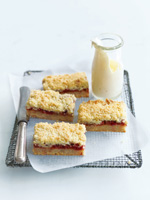 This is a really easy slice to make and it tastes very yummy served warm with a big dollop of cream on top of it.
I found the recipe in a Donna Hay newspaper column a few years ago. Great for church morning teas or any other "bring a plate" function.
Here's the recipe:
Ingredients:
100g butter, melted
1/3 cup (75g) caster sugar
1 cup (150g) plain flour, sifted
1/2 teaspoon baking powder, sifted
1/2 cup (40g) desiccated coconut
1/4 cup (60ml) milk
1 bunch rhubarb, trimmed and chopped
3/4 cup (165g) caster sugar, extra (you could probably get away with a bit less...)
1 teaspoon vanilla extract
double cream, to serve
Crumble Topping
1 cup (150g) plain flour, sifted
1/4 cup (55g) caster sugar
100g cold butter, chopped
Preheat oven to 180 degrees. Combine melted butter, sugar, flour, baking powder, coconut and milk in a bowl and mix well to combine. Spoon into a 17cm x27cm slice tray lined with baking paper and bake for 20 minutes or until golden and firm to touch.
Combine rhubarb, extra sugar and vanilla and spoon onto base.
To make crumble topping, combine flour, sugar and cold butter, using your fingertips to rub the butter into the flour until it is a crumbly consistency.
Spoon onto rhubarb and bake 35-40 minutes until golden. Slice and serve with cream.
Enjoy!